Wee Little Lambs Day Care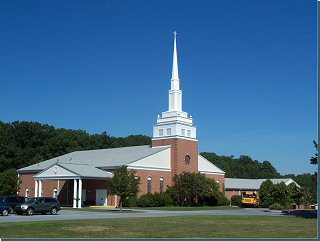 General Information
"Loving care when you're not there."
Wee Little Lambs Early Learning Center is located in and is a mission of Mt. Holly Springs United Methodist Church.
We are committed to proving children with high-quality early childhood education in an environment in which they are nurtured and their needs are met. Our classrooms operate under the guidance of educated and degree-holding teachers, and group sizes are kept small in order that we might better serve children and make their experience away from home pleasant.
Our mission statement:
We seek to provide love, Christian care and high-quality early childhood education for the children of working parents. We believe Jesus loves each child and has a plan for each life.
Our Curriculum and Program:
It has been said that "a child's work is play!" The development of social skill and respect for others through play is a critical piece in building a strong and positive foundation for lifelong education. At Wee Little Lambs, helping our students become well-rounded humans—socially and academically—is a goal we value.
The Creative Curriculum links with the PA Early Learning Standards. This framework is developmentally appropriate and child-centered, upon which we add a Christian perspective to help children understand the great love of God.
Active play includes hands-on experiences that enrich children's creativity, language, math, science, fine motor and social skills. Numerous opportunities to discover and explore, to problem-solve, to work out large muscles, to laugh and sing are offered daily.
Monthly themes and projects incorporate a variety of subjects relating to holidays, seasons, and environment. More complex skills and concepts are added as children's abilities grow.
Classroom environments give the structure and flexibility each child needs. Interest areas stimulate curiosity, allowing children to practice new skills and build upon them.
Our History:
Wee Little Lambs Early Learning Center opened on November 4, 1994 as a special weekday children's ministry of Mt. Holly Springs United Methodist Church. We are licensed by the PA Department of Public Welfare. We also participate in the Pennsylvania Keystone STAR Program and are designated as a STAR FOUR facility.
Our Facility:
The daycare wing is on the main level of the church facility. A safe, inviting, indoor environment, full-sized gym for active indoor play, and a wonderful outdoor play yard with plenty of green grass are maintained with the young child in mind!
The facility is fully air-conditioned in the warm summer months. The daycare provides air purifiers for each classroom to reduce the amount of pollen, virus and bacteria in the air.
Contact us to schedule your center visit!
202 W. Butler St.
Mt. Holly Springs, PA 17065
Phone: (717) 486-8728
E-mail: Weelittlelambs@gmail.com
Hours of Operation:
6:30 a.m. - 5:30 p.m. (M-F)
Services Provided:
Full- and part-time status:
Infants 6 weeks - 1 year Young Toddlers 1 year olds
Older Toddlers 2 year olds
Preschool 3 year olds
Pre-k 4-5 year olds
School age Kindergarten-2nd grade currently
Wee Little Lambs Day Care Center admissions and services are made without regard to race, color, religious creed, ancestry, sex, disability, age, or national origin, or those with LEP.